2008 MLY Batting Statistics
Thru 6/1/08
Phil Bradley: 5-12 (.417), 2 HR, 2 RBI, 0 BB, 3 K
Shawn Brown: 5-16 (.313), 1 HR, 3 RBI, 0 BB, 6 K
Budrozin Clark: 3-12 (.250), 1 HR, 1 RBI, 1 BB, 6 K
Mike Jones: 4-17 (.235), 1 HR, 2 RBI, 1 BB, 8 K
Andy Taylor: 4-14 (.286), 2 HR, 5 RBI, 0 BB, 4 K
Monu Wickham: 2-10 (.200), 0 HR, 0 RBI, 2 BB, 5 K
Jake Yops: 4-15 (.267), 2 HR, 3 RBI, 3 BB, 7 K
2008 MLY Pitching Statistics
S. Brown (0-1) 6 IP, 6 H, 3 R, 3 HR, 1 BB, 10 K, 3.00 ERA
B. Clark (0-1) 6 IP, 5 H, 3 R, 1 HR, 2 BB, 12 K, 3.00 ERA
M. Jones (1-0) 7 IP, 8 H, 5 R, 2 HR, 2 BB, 8 K, 4.29 ERA
A. Taylor (1-0) 4 IP, 4 H, 3 R, 3 HR, 1 BB, 8 K, 4.50 ERA
M. Wickham (0-0) 3 IP, 4 H, 2 R, 0 HR, 1 BB, 1 K, 4.00 ERA
Major League Yardball Record Book
2007 Season Statistics posted below
At-Bats in Single Game:
15 - Andy Taylor - 2005 MLYCS Game 3
15 - Monu Wickham - May 6, 2007
14 - Bud Clark - April 29, 2007; Andy Taylor - April 29, 2007; Andy Taylor - August 9, 2002; Monu Wickham - August 9, 2002
Hits in a Single Game:
11 - Andy Taylor - 2005 MLYCS Game 3
10 - Shawn Brown - 2005 MLYCS Game 3
8 - Phil Bradley - 2005 MLYCS Game 1; Mike Jones - 2005 MLYCS Game 1; Phil Bradley - 2005 MLYCS Game 3
7 - Mike Jones - 2005 MLYCS Game 4; Phil Bradley - May 6, 2007; Andy Taylor - May 6, 2007; Brian Sharon - 2003
6 - Andy Taylor, Shawn Brown - August 20, 2006; Andy Taylor, Shawn Brown - June 11, 2006; Phil Bradley - April 29, 2007; Mike Jones - May 13, 2007
Homeruns in a Single Game:
7 - Andy Taylor - 2005 MLYCS Game 3
6 - Phil Bradley - 2005 MLYCS Game 1
4 - Brian Sharon - 2001 MLY/WWA Round Robin Tournament Game 5; Phil Bradley - 2003 vs BC Rods; Bud Clark, Mike Jones - 2005 MLYCS Game 1; Shawn Brown - Game 3 of 2006 MLY/MVWL Series in Flint; Andy Taylor - August 20, 2006; Bud Clark - 2006 MLYCS Game 3; Shawn Brown - April 22, 2007
Team Homeruns in Single Game:
One Team: 14 - Commander in Chin (Jones, Bradley, Clark) - 2005 MLYCS Gm 1
13 - Hoyt Killaz (Taylor, Brown, Monu) - 2005 MLYCS Game 3
Combined: 21 - Chins (8) vs. Hoyt (13) - 2005 MLYCS Game 3
16 - Chins (14) vs. Hoyt (2) - 2005 MLYCS Game 1
RBI in a Single Game:
12 - Andy Taylor - 2005 MLYCS Game 3
10 - Bud Clark - 2006 MLYCS Game 3; Phil Bradley - 2005 MLYCS Game 1
9 - Phil Bradley - 2003 vs BC Rods
8 - Shawn Brown - Game 3 of 2006 MLY/MVWL Series in Flint
Strikeouts in a Single Game:
10 - Monu Wickham - May 17, 2004
9 - Mike Jones - May 17, 2004; Monu Wickham - May 4, 2004
8 - Monu Wickham - August 9, 2002; Mike Jones - 2001 MLYCS Game 3
7 - Monu Wickham, John West - April 15, 2007; Monu Wickham - 2006 MLYCS Game 4; Bud Clark - 2006 MLYCS Game 2; Monu Wickham, Shawn Brown - 2003
Most Runs Scored in an inning by a team: 13 - Hoyt, 4th inning, 2005 MLYCS Game 3
Most Runs Scored by a team in a game: 24 - Hoyt - 2005 MLYCS Game 3
Most Runs Combined Scored in a game: 36 - Hoyt (24), Chin (12) - 2005 MLYCS Game 3
2007 MLY Batting Statistics (All games)
Thru 8/3/07
Phil Bradley: 37-120 (.308), 10 HR, 20 RBI, 11 BB, 32 K
Shawn Brown: 45-120 (.375), 17 HR, 36 RBI, 3 BB, 24 K
Bud Clark: 29-103 (.282), 11 HR, 20 RBI, 11 BB, 36 K
Mike Jones: 43-114 (.377), 6 HR, 9 RBI, 9 BB, 28 K
Andy Taylor: 41-123 (.333), 14 HR, 28 RBI, 6 BB, 29 K
Monu Wickham: 19-110 (.173), 5 HR, 10 RBI, 7 BB, 54 K
2007 MLY Batting Statistics (MLY Games Only)
Thru 7/22/07
Phil Bradley: 37-106 (.349), 10 HR, 20 RBI, 10 BB, 26 K
Shawn Brown: 42-101 (.416), 16 HR, 33 RBI, 3 BB, 20 K
Budrozin Clark: 29-103 (.282), 11 HR, 20 RBI, 11 BB, 36 K
Mike Jones: 31-96 (.323), 5 HR, 8 RBI, 6 BB, 27 K
Andy Taylor: 35-107 (.327), 12 HR, 25 RBI, 3 BB, 25 K
Monu Wickham: 18-99 (.182), 5 HR, 10 RBI, 5 BB, 47 K
2007 MLY Pitching Statistics
S. Brown (3-0) 21.3 IP, 21 H, 9 R, 7 HR, 2 BB, 25 K, 2.53 ERA
B. Clark (4-2) 49 IP, 59 H, 34 R, 16 HR, 5 BB, 81 K, 4.16 ERA
M. Jones (3-2) 25 2/3 IP, 35 H, 24 R, 11 HR, 9 BB, 31 K, 5.61 ERA
A. Taylor (1-5) 39 IP, 64 H, 40 R, 20 HR, 19 BB, 50 K, 6.15 ERA
M. Wickham (0-2) 10 1/3 IP, 16 H, 12 R, 6 HR, 4 BB, 7 K, 6.97 ERA
Proposed 2007 Stars uniform shirt.
Tentative Uniform Released for 2007
MLY has revealed its uniform design. Presently, the design is open to change and group discussion. However, two elements that will remain regardless are the color scheme and shirt style. The shirts will be heather grey with navy trim on the collar and sleeves—a design similar to the 2003 uniform. You can discuss the uniform here.
MLY to Again Explore Expansion Games
The league's front office has announced that is has officially opened a dialogue with a league in West Bloomfield to discuss possible exhibition games in the coming weeks. MLY has also said it plans on contacting the Downriver Wiffleball League later in May.
The contacts are part of the ambitious "Back in The Game" project to which MLY President Phil Bradley alluded several months ago in an informal on-line posting to league members. The crux of the plan calls for a slow yet steady progression of games against other leagues leading up to the Wheeling series in July, with the difficulty of schedule increasing with each cross-league game. By late June, MLY would like to be playing the Hampton Pirates in a home-and-home stand.
"Even if we can get a few in here and there, it would be good. The boys need to get back into the competitive spirit and see some new talent on the field by touring around and getting back in the mix al la Beerfest." said Bradley.
For Around the League, I'm Kenny Brockelstein.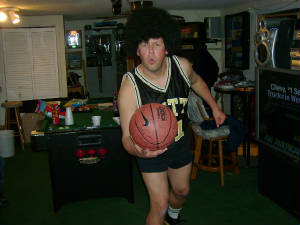 Shawn Brown shows off his 70s hoops uniform to promote the MLY "Turn back the clock" Game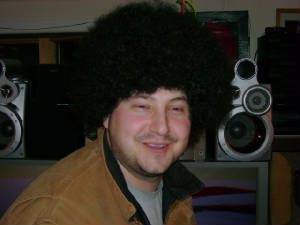 Phil Bradley stars as Lando Griffin in 'Black to the Future' We're talkin Marty McSuperfly bi-otch!
MLY to "Turn Back the Clock"
From 4-14-07
The MLY, in its latest gimmick attempt, has decided to go back to the 70s for its latest game. The MLY Front Office announced the "Turn Back the Clock" Game at Brown Stadium on Sunday, May 20, 2007. The game, while in its early stages, should feature all players dressed in 70s gear, as well as the game being played by rules from the 70s. The MLY will be, reluctantly, hanging around Jeff Blanchard in the next couple of weeks to grab some ideas for this game. More details to follow.
Rules Meeting Results
The MLY conducted its much anticipated Rules Meeting on Saturday night at Remingtons Bar in Flint. The following rules were discussed and agreed on:
Mercy Rule: A mercy rule was agreed on for the first time in league play. The rule will be ten runs after four innings. A couple different ideas were floated such as 10 after 3 and 8 after 4, and 7 after 4, but in the end the mercy rule of ten after four will be used.
Walks and Ghost runners: The main rule discussed was walks and when a runner will be walked in. Ghost runners will be used when fewer then four players are on a team. The ghost runner will only be used to determine bases for walks. Example: Two physical runners on base and one ghost runner. B1 hits a homerun plating all four runners. The homerun will count for three runs and the baes will be consiered empty for the following batter.
Bunting: Bunting will be permitted with less than two outs. The penalty for bunting with two outs is that the ball will be considered dead immediately and the batter shall be called out. The play will be scored as an at-bat/failed to reach base. This expands on the 2006 rule which only explained bunting as unconditionally legal.
2007 Opening Day Start of Clark's Closing Season
The troubled weather forecast for Opening Day may be an immediate snag for the start of the 2007 season, but chilly temperatures on Easter Sunday may be the least of the league's worries looking ahead beyond April. Many uncertainties still fill the air regarding player participation this summer.
After searching for definite commitment from players for the past several months, the MLY Commission got its first concrete answer last weekend. However, it was not the response it had hoped for.
Bud Clark will, for certain, be leaving MLY this summer. Last Sunday in a small press conference Bud Clark formally announced his retirement (for real this time) as he prepares to move to Las Vegas as early as this June. Clark's girlfriend will begin a teaching job in Las Vegas while Clark himself is expected to strip for Sacagawea dollars to help offset the living costs he and his girlfriend will incur. Clark was best known for his solid knuckle ball, sinker and 600 mph fastball when playing under flashlight- powered night games. Actually, Clark was best known for having an overly large tally-whacker. However, that claim to fame was crushed when, during a Jim Sedlar expose, Clark's girlfriend uttered those now famous words: "it's not that big."
The loss of Clark will hurt an already stretched MLY pitching staff. Clark's recent strong performances in his last several MLYCS and Wheeling Series appearances had put Clark on pace to be one of the league's record-setting pitchers. Now, the league is searching for a worthy replacement.
Another uncertainty in 2007 is Phil Bradley. Bradley has been offered a tenitive job as a U.S. Customs and Border Protection Officer. The job requires a 15-week training session at the Federal Law Enforcement Training Center in Georgia which includes learning immigration laws, trade regulations, arrest techniques, firearms training, and physical conditioning. Customs has yet to notify Bradley when he will be sent to Georgia, but it is likely that it will fall during the summer months, effectively putting Bradley out for the remainder of the year.
The clear cut answer to the loss of Clark's arm and Bradley's bat is Brian Sharon. In his prime, Sharon was both a stellar hitter and pitcher. However, it has been several years since Sharon quietly departed from the rank and file and in his few token appearances over the last two years his bat has looked slow and his arm inaccurate.
"Right now it'll be a big enough task to get Brian to come out more, let alone get him in shape. In a perfect world a taxi would pull up and a 22-year-old Sharon would step out in some kaki shorts, wearing "broakleys," a salt-encrusted St. Mary's hat, and just destroy everything within his parameter, but we know better," said Stars manager Andy Taylor.
Another name thrown into the mix is former Mott Bear Justin Robinson. Robinson has spent the past three years playing in the Frontier League, but has been calling Shawn Brown non-stop asking when he can "play some wiffle ball."
Robinson is a left-handed pitcher with dramatic movement on his fastball and an excellent slider. At the plate Robinson's short stride and quick hands helped him bat .466 (three games) in CBL West play last summer.
Regardless of who will replace Clark or Bradley, if needed, one thing is for certain. MLY's dwindling ranks have meant dangerous living for some time and now it appears as though a lack of back-up players may have caught up to a league that boasted a player base as large as 21 people as recently as 2000.
The MLY Commission is not letting the gloomy forecast for the future, Opening day or otherwise, spoil an annual tradition on Flint's south side since 1987. One bright spot is the expected turn out for Opening Day, which, if high, could be the boost of energy needed to rally participation. The Commission hopes so.
There is a correction to the homepage graphic which reads Opening Day starting at 1:05 PM. The correct start time is 12:00 PM.
March 21, 2007
Rules Meetings...
Believe it or not, the league has still not settled on new rules for the 2007 season. This is due in large part to League Enforcer James "Monu" Wickham taking six weeks off work to visit every strip club in Vegas in order to find a spot to take Shawn Brown before his wedding in Vegas Memorial Day Weekend. Most rules should be settled in the next week or two, and if SWA plays in the state finals, they can be settled at that time. Don't worry bitches, we'll get some rules.
Gerald Ford Update...
Former President Gerald Ford is still dead at this time. Johnny is still doing his Gerald Ford shitck at this time, as well. We will update you if either of these situations change.
Player Hater's Update...
Jeff Blanchard got a haircut and a shave over the weekend. He figures if he's going to be on FSN Detroit he should look his best. Also according to the website budclark.edu, Bud Clark has moved one step closer to securing his move to Las Vegas. Clark, who would move out there with his girlfriend, has stated he will play blackjack and video poker 24/7 to make his living. Meanwhile, in a late breaking phone call, Phil Bradley has announced he will not be attending the semi-finals or finals this weekend due to unspecified reasons.
For The Commission Report, I'm Sam from Stonehouse!
December 26, 2006
- Discussions have continued regarding new rules for the 2007 season. Discussions have included clarifying the bunting and pitching speed restriction rules, as well as officially putting a mercy rule in the rule book. Some other discussions have brought up topics like pitching change after a certain amount of walks in an inning, game times vs show up times, double headers (2/6 inning games) vs a single 9 inning game, and possible game speed up rules. Field improvements are also on the agenda with new dirt at brown as well as fixing the foul poles, new billboards and advertisements, and mercury lights.
- MLY Online will put together a first involving the players of the league. The 2007 player projections and preview will be unveiled in the next couple of days. The projection will include ranking the players at both pitching and hitting, as well as projections for the 2007 season and other tidbits. Look for this on MLY Online before the end of 2006
- Plans are still in the works for MLY's Annual New Years Bash at the Beach. Although this event does not take place within 50 miles of the beach, its still an annual event that provides entertainment, drunken cluster fucks, and big craig stripping down to fight somebody. You can get ahold of somebody in the MLY for information on the festivities. Beer will be provided by Anheuser-Busch with proceeds to benefit the victims of last years New Years "accident!"
For MLYNews I'm Scuba Steve... damn you!
With New Years Eve a couple days away, we decide to look ahead to the 2007 MLY Season. Today we take a look at the pitchers. Later on this week, we will have the batting projections.
Pitching:
1. Shawn Brown
Scouting Report: Great control of most pitches, will throw all pitches in all counts. Has a devastating 12-6 curveball "The Big Nast" along with a rising fastball, a sinker ball, and change up. Very tough to hit when all the pitches are working. The only pitcher in MLY to allow fewer hits then innings pitched (35 hits in 39 IP). Uses great control to get hitters to chase pitches out of the strike zone.
Strengths: Almost un-hittable 12/6 curveball, developing rising fastball, rarely walks a batter, strikes out almost 2 per inning.
Weakness: Nothing that is a glaring weakness. Doesn't give up many homeruns, doesn't walk many hitters.
2007 Projection: (15 games pitched) 12-3, 2.82 ERA
2. Bud Clark
Scouting Report: Great pitcher when ahead in count. Throws a power sinker as out pitch, along with above average fastball and knuckleball. Can throw a rising fastball but with varying control. Has some issues with walks (16 in 23 2/3 IP). Not an overpowering strikeout pitcher, gets a lot of outs on fly balls.
Strengths: Power sinker is very tough to hit when thrown down in the strike zone. Always competes on the mound
Weakness: Can get into trouble when the sinker is up in the zone.
2007 Projection: (11 games pitched) 7-3, 4.33 ERA
3. Mike Jones
Scouting Report: Has made great strides in becoming an elite pitcher in the MLY. Throws mostly out of a sidearm or ¾ delivery. Throws an above average slider with the spin hidden quite well, and a developing rising fastball. With the way he pitches, will give up lots of homeruns (23 of 45 hits given up in 06 were homeruns). With MLY pitchers getting older, should be able to jump into a prime spot in the rotation and continue to contribute.
Strengths: Above average slider is a difficult pitch to hit when its on. Very agile fielder, can get off the mound and field position.
Weakness: Homeruns, gives up quite a few. May also need to develop a pitch that sinks
2007 Projection: (12 games pitched) 6-4, 4.58 ERA
4. Andy Taylor
Scouting Report: May not have the ability to dominate a game as he did a couple years ago, but still can be labeled a big game pitcher. Has pretty much one pitch he can go to in the rising fastball. Throws it at different angles and speeds. Has an average fastball with movement and changeup. Main problem is giving up lots of walks (31) along with not having a legit second pitch to go too when the rising fastball is not working. Will give up homeruns (23) and hits (64) in 39 IP.
Strengths: The riseball. Its still one of the most dominant pitches when thrown right. Big game pitcher against inter-league opponents.
Weakness: Needs a 2nd pitch to compliment riseball. Also way too many walks and hits allowed.
2007 Projection: (15 games pitched) 8-6, 5.11 ERA
Other pitchers: James "Monu" Wickham, Phil Bradley, Brian Sharon (not enough innings pitched to qualify for list)
Rule Change Form